"Safety is everyone's responsibility. CUEL is committed to Incident and Injury-Free (IIF) culture where HES performance is discussed in terms of relationship and people, not numbers."

While the HES Management System is in place as standards for safe workplace and operations, the source of safe behavior is always on personal commitment and leadership. In building and sustaining IIF culture and ensuring people go home safely every day, we place our commitment and emphasis on.

Leadership Development
Safety leadership in each individual is important to drive the IIF Culture. People having safety leadership can influence safety mindset of others. Strong IIF culture is visible when personal safety mindset from all levels including subcontractors working in our sites are combined together.

Personal Responsibility
Realizing Safety is Everyone's Responsibility creates ownership to safety among ourselves and others around us. With this ownership, we care and take actions to reduce risks and prevent incidents that could happen. Incident and injury-free work environment is then possible.

Relationship
We believe relationship is a fundamental for establishing IIF culture. Good relationship or Care and Concern among people working together allows them to comfortably speak up or have conversation about choices of safe action when seeing or recognizing unsafe work conditions or unsafe acts.

People Oriented Approach
People is our focus. Making people aware of their values and why it is important they being part of the company in growing IIF encourages good teamwork and creative collaboration. This approach strengthens the IIF culture and sustains safe work environment in our IIF journey.

Management System
CUEL's HES management system has been established and implemented by integrating with all company core values and building on the same ground that fosters the growth of IIF culture. As well, the HES management system we have in place is ISO 45001:2018 and ISO14001:2015 certified.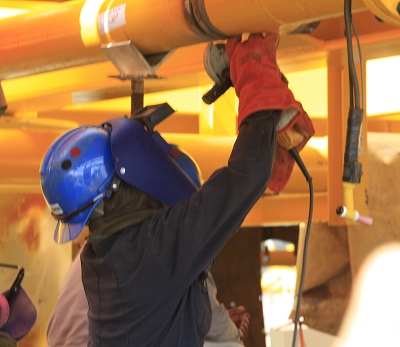 HES Achievements and Awards :

• Achieved 25 million man-hours company-wide without a Day Away from Work Case; DAFWC
(Dec 14-Jun 16)
• The Best safety record of 57 million man-hours company-wide without DAFWC (Nov 09 – Dec 14)
• Installation Operations achieved 10 Years without DAFWC (Feb 06 – Feb 16)
• The most improved HES performance: 2015 TRIFR decrease on Ichthys project
• Thailand National Safety Top Tier Diamond Awards and Zero Accident Diamond Award for 6 consecutive years (2011- 2016)
• Chevron-CHESM (Chevron's Contractor HES Management) Contractor rate "A" since 2008
• Chevron: 2010 and 2011 Outstanding Crew Award for commitment in HES performance
• Chevron: 2007 and 2011 OE HES Award in Achieving Installation Campaign without Day Away From Work incident
• Carigali HESS: 2011 Safety Silver Award, 2012 Safety Gold Award, 2013 Platinum Award